Download
---
---
1. Download SDK
Direct download: NAppGUI 1.2.2 WIP.
GitHub:

| | |
| --- | --- |
| | git clone https://github.com/frang75/nappgui.git |

After download, go to Quick start.
---
2. Download Demos
Sample applications showing certain aspects of the SDK. From the following table you can download the executables or access the descriptions and source code.
Win32: Windows XP and later 32-bit.
Win64: Windows Vista and later 64 bit.
OSX: Mac OSX 10.7 (Lion) and later.
macOS: macOS 10.14 (Mojave) and later. See Run demos on macOS.
macM1: macOS 11.00 (Big Sur) and later, with ARM architecture (Apple M1).
Linux: Ubuntu 16.04 LTS and later 64 bits.
RPi: Raspbian 9 Stretch and later ARM 32 bits.
---
3. Run demos on macOS
You may not be able to run the demos on newer macOS systems due to Apple's protection system (Figure 1). To disable this protection, open the Terminal and type:
| | |
| --- | --- |
| | sudo spctl --master-disable |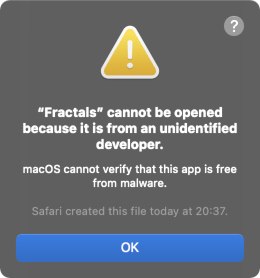 ---
4. Version history
| | | | | |
| --- | --- | --- | --- | --- |
| Version | Build | Date | Download | eBook |
| NAppGUI 1.2.2 | - | WIP (in progress) | [⇩] | - |
| NAppGUI 1.2.1 | 2788 | November, 8 2020 | [⇩] | [⇩] |
| NAppGUI 1.1.1 | 2374 | 28 January 2020 | - | - |
| NAppGUI 1.1.0 | 2266 | December 31, 2019 | - | - |
---